A ROSE FLOWERING BY THE SEA
ARTISTS' RESIDENCY AT BEXHILL MUSEUM OF COSTUME & SOCIAL HISTORY 2000/01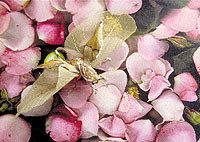 Moth that flew out of Miss Havisham's trousseau trunk (Click on images to enlarge)



A collaboration between the artist Jane Wildgoose, the sculptor Mary Hooper and Bexhill Museum of Costume & Social History in East Sussex. The residency at the Museum was one of a hundred projects in the region supported by South East Arts in association with the Arts Council of England under their 'Year of the Artist' programme [2000-01].
THE TITLE
The title of the residency derived from Proust's description of Albertine in A la recherche du temps perdu, in which the narrator associates Albertine closely with their meetings at the Balbec seashore. When she returns to Paris, he recollects Albertine as "a rose flowering by the sea". However, when she is disassociated from the seaside, in a Parisian room, "she seemed to me a very poor specimen of a rose, so much so that I wanted to shut my eyes in order not to observe this or that blemish of its petals, and to imagine instead that I was inhaling the salt air of the beach."
As a title, A Rose Flowering by the Sea seemed to us to convey something of the unique quality of the Museum in its Garden setting with sea views; also, in the context of the Proust quote, the phrase seemed to indicate some of the complex associations traditionally made between nature, women, and their social standing through dress and the domestic interior, which can be found reflected in the Museum's Collection.
THE MUSEUM

A planned short term exhibition in 1972, showing a private collection of costume and memorabilia, developed into the Bexhill Museum of Costume & Social History with full registration status. The Museum is administered and staffed by volunteers from the local community; it is currently in the process of planning to obtain new premises where the true value of the unique collection (which includes many wedding dresses and accessories dating from the 19th century) can be shown to better advantage and a wider audience.
THE RESIDENCY
'My aim for the residency was to consider the theme of floral decorations in costume and the traditional relationship made between women and flowers, especially in literature. With a particular interest in Miss Havisham from Dickens's Great Expectations, I wanted to consider the use of floral motifs in wedding dresses and accessories. These decorations might appear superficial today, but traditionally they have been informed by a long history of associations made between women and flowers: as symbols of beauty and love subject to time's changes, and as emblematic devices of chastity (lily/lily of the valley), fertility (orange blossom), or carnal and spiritual love (red and white roses).

Photographs © Mary Hooper 2003
'Many of the wedding dresses in the collection at Bexhill include floral details. There is an abundance of roses: as motifs in lace, or in embroidered details, and picked out in beads. They are also included in boxes full of artificial wedding flowers, along with orange blossom and lilies made up as bouquets and head-dresses, in silk and wax. These gave me a vivid glimpse into the colours, textures, and curious mixture of fragility and durability characteristic of Miss Havisham's dressing room. I was able to take photographs of some of these items, and of the Manor Gardens which, in winter, perfectly complemented my thoughts about Miss Havisham.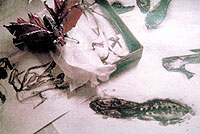 Moth that nested in Miss Havisham's shoe box
Meanwhile, Mary was accessing shoes, fans and parasols. Although we have both always bought and worn antique clothes, and also collected and used floral and leaf material in our work, it became apparent that our responses to the subject matter and to the items in the Museum's collection were very different. Where Mary found glimpses of parties and seductions, I found poignancy and lost worlds which, nonetheless, retained beauty in their fragility and temporality. If the boxes could have played music for us, I think Mary's would have played tangos, while mine would have played elegies. But we were both moved by how much the imaginative stimulation of these intimate fragments of other people's lives spoke to us - not only of the people who wore the clothes, but also in their capacity to reveal much to us about ourselves. Mary's beautiful and sensuous photographic images of flowers proved the perfect foil for the moths I made which might have flown out of Miss Havisham's trousseau trunk.'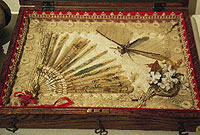 The residency included workshops with older members of the local community. Selected work from the workshops was exhibited at the Museum in 2001-02 in a small installation, along with pieces made by Mary and Jane during the residency. In 2003 Mary and Jane were invited to design a small display for the Museum: they based this upon Miss Havisham's dressing table, using Mary's photographs and small sculptural pieces, and Jane's moths, along with items from the collection.

'She had not quite finished dressing, for she had but one shoe on, and some lace for her bosom lay with those trinkets, and with her handkerchief, and gloves, and some flowers, and a Prayer-Book, all confusedly heaped about the looking-glass.…I saw that everything within my view which ought to be white, had been white long ago, and had lost its lustre, and was faded and yellow.'

Great Expectations, Charles Dickens, first published 1861.

Links: