LACHRYMAE I
FREEDOM CAFE, LONDON, 1996



Noblest bodies are but gilded clay (Click on images to enlarge)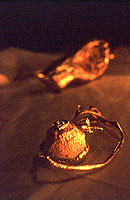 Put away / But the precious rind
"Last June [1996], Wildgoose transformed the downstairs theatre at Freedom Cafe in Wardour Street into a still-life tableau for Lachrymæ I - the first in a series of seven pieces. Written by Middleton, it is based on 17th-century texts…Some commemorate lives lost in the Great Fire and the Plague, others simply attest to life's fragility. Wildgoose had the task of bringing the text to life. 'I wanted that amazing sensuality you get with 17th-century Vanitas paintings.' The space became part dinner party, part Last Supper. A huge 7-metre dinner table swathed in white linen dominated the set. decorated with a series of 24 clasped hands. Half are gilded, half plaster.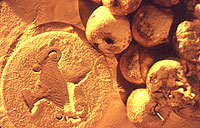 The inmost rottenness remains behind
Wildgoose is fascinated by the contrast between fragile and durable materials. There are asparagus and passionfruit made from wax, gilded apples, and hand made plates with an urn motif. As you move down the table you notice the banquet is beginning to decay - gilded apples begin to rot, plates to crack - death is everywhere."
From Crafts magazine No. 143 November/December 1996 pp43-/44

THERE ARE SEVEN TEARS:
LACHRYMÆ ANTIQUÆ: THE OLD TEARS;
LACHRYMÆ ANTIQUÆ NOVÆ: THE OLD TEARS RENEWED;
LACHRYMÆ GEMENTES: THE SIGHING TEARS;
LACHRYMÆ TRISTES: THE SAD TEARS;
LACHRYMÆ COACTÆ: THE FORCED TEARS;
LACHRYMÆ AMANTIS: THE LOVER'S TEARS;
LACHRYMÆ VERÆ: THE TRUE TEARS.
From Lachrymæ, or, Seven Teares Figured in Seven Passionate Pavans
by John Dowland, 1604.
LACHRYMÆ I was an installation and performance piece by Jane Wildgoose and Alasdair Middleton. It was the first in a projected seven-part work, based on 17th Century texts about disaster, death, love and loss. Many of the texts were found on buildings and memorials in London.
The piece was a visual and verbal exploration of the nature of remains: Mortal and Monumental; of Love and Memory; Transience and Permanence.
It was intended as a meditative monument and memorial to that which has passed, and an affirmation of that which is, and is to come.

The installation by Jane Wildgoose drew on imagery in the text compiled for the performance by writer/director Alasdair Middleton. It was also inspired by seventeenth century Still-Life paintings (in French, known as Nature-Morte): in particular the Vanitas, whose subject is the symbolic treatment of transience and worldly experience.
These paintings, which combine symbolic reminders of the vanity of worldly delights with a high degree of formality in their composition, also make a direct and powerful appeal to the senses. Recurrent themes are, the reminder of Death's arrow, ever present in life ("It pierces perpetually, flies quickly and kills"1), the ephemeral but seductive nature of beauty and the pleasures of the world, ("A soap bubble as fragile and as fleeting as human life, and as empty as earthly ambition"2), and the contrast between that which perishes and that which endures ("The Difference between the Temporal and Eternal; and Crucible of Disillusionment"3).
In the world of the Vanitas, Life is still, Nature is dead; time and beauty are suspended in a world where the symbols of transience are immortalised in a state of perpetual perfection; but transience is belied by the enduring nature of the exquisitely crafted painting. Installation and performance are , by their nature, ephemeral events subject to the period of time in which they occur. What is brought to this event is what should be taken away: memories. The installation is informed by memories, and intended as a memorial - as transient, yet as enduring and as open to interpretation - as memory itself. It commemorates human frailty and vulnerability in their capacity to remind us of the human strengths we find in those we love and respect.
If there were to be an epitaph for this memorial, it would be, "Love is strong as Death."
NOTES
1 This legend, "Æternæ pung[i]t cito volat et occidit", is to be found on a ribbon carried by the Angel in the painting The Dream of the Knight, c.1650, attr. Anotnio de Pereda.
2 From a description of the painting Allegory of Vanity, 1660, Juan de Valdés Leal; Spanish Still Life from Valazquez to Goya, Gordon & Cherry, NGP 1995.
3"De la Differencia entre lo Temporal y Eterno y Crisol de Desenganos" is the title of the book by Fr Juan Eusebio Niremberg, a copy of which can clearly be seen in the Allegory of Vanity, above.
Links: